Roseville Mediation Attorney
What Is Divorce Mediation?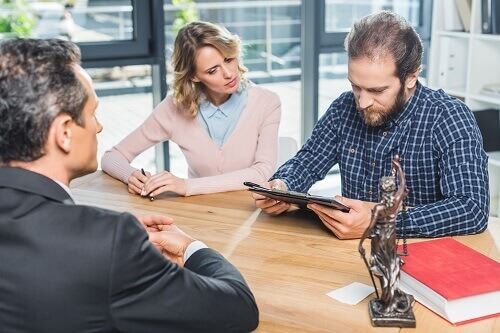 Mediation is an alternative to fighting in court and letting a judge make decisions regarding your divorce, and other issues such as child custody, spousal support, and property division.
Mediation is a completely voluntary process where an experienced, professional, and unbiased third party helps two conflicting individuals negotiate a settlement of their case. The divorce mediator is best described as a professional negotiator.
Why Choose Mediation?
Going to trial can be an expensive and hectic way to handle divorce. Trial is sometimes the necessary and appropriate method, but it places the decision-making power in the hands of a judge. Details of divorce are important issues that will impact your future and should be made by you and your current spouse.
A mediator can help you and the other party see beyond the differences that cause the animosity. I can help the two of you make important life-changing decisions on your own so that you don't have to appear before a judge. If you are interested in learning more about how divorce mediation can help you in this situation, please feel free to speak with my firm.
At the Law Offices of Evan Samuelson, I offer divorce mediation services to those spouses or parents who wish to explore that path. I have completed a 40-hour training course with the Northern California Mediation Center (NCMC) and have the necessary skills to help you efficiently handle this issue. Mediation provides both parties the chance to cope with the issues that have started the dispute.
Are you interested in family or divorce mediation as an alternative to court? Contact my office today to schedule a consultation.
What Are the Benefits of Hiring a Mediator?
Mediation requires cooperation. It can only be accomplished if you and your spouse are able to work together with the assistance of a neutral third party. There are many benefits to hiring a mediator in various divorce and legal separation circumstances. As your experienced divorce lawyer, I can help you make important decisions on issues that must be decided.
Some of these issues that I can help you discuss and negotiate include:
If you choose to enter into mediation, then as your Roseville mediation attorney, I can ensure that both parties' rights are protected and that an equitable agreement can be established. I underwent a 40-hour training course with the Northern California Mediation Center (NCMC) and have since provided valuable mediation services.
My experience as a mediator and my 25+ years of experience as a family law attorney enable me to offer clients excellent insight into their divorce situations. Through mediation, for example, I can help you pursue a less-expensive and less time-consuming path to divorce. By hiring a mediation attorney, the process will be much less emotionally difficult.
How a Roseville Divorce Mediator Can Help You
Filing for a divorce is a life-changing decision and one that should never come lightly. However, once you are in the place where you feel as though it is the best decision for you (and perhaps your family) then contacting a family lawyer is going to be the next best decision.
Even when you and your almost-ex are willing to work out a divorce settlement together, utilizing the guidance of a skilled legal professional is going to be what saves you both time, money, and maybe even a little stress as well. Even though mediation is a means of staying out of the courtroom, a lawyer can offer you very specific guidance in order to make sure you are making the best decisions for yourself.
How can a mediation attorney assist you in a family law or divorce case?
A lawyer will help you to evaluate the options available to you when choosing how to go about mediation and even instruct you on the best way to encourage your spouse to participate if they are not yet on board.
An attorney can play the role of a "law coach" in your life to make sure that your decisions are going to be best in terms of financial matters, property concerns and even in regards to your children.
Having a lawyer on your side will also enable you to have a better ideal at the possible outcomes of the decisions you and your spouse make and warn you about the varying ramifications they may have on your life.
Lastly, a lawyer can handle any documents and agreements that need to be drafted in order to make sure that the process is completed in an efficient manner and that your well-being has been guarded as you prepare to sign a legally binding contract.
Getting a divorce doesn't always have to be an emotionally charged, stressful, or costly process. While litigation in court is sometimes necessary and appropriate, frequently couples going through a divorce can resolve their differences amicably, through mediation, and then move on with their lives that much sooner.
Contact a Roseville Divorce Mediator
It is for the above reasons that divorce or family law mediation should be seriously considered. At the Law Offices of Evan Samuelson, I offer divorce mediation as a viable alternative to litigation. I have the ability to help you work through your problems creatively and thoughtfully. There are many benefits to hiring a Roseville mediation lawyer. I can help you and your spouse, partner, or co-parent reach agreements on child custody, child support, spousal support, or property division.
Are you interested in learning more about divorce mediation? Call my firm today at (866) 270-0336 for a consultation with a family mediator!